I'm Abby Hagyard… This is My Story
.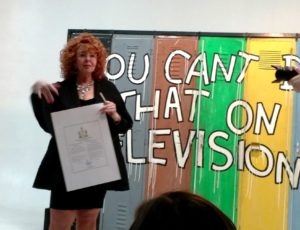 My Story goes like this…


I'm a military brat. Time is a luxury we never have.
I learned to tell stories to make friends fast.
My Career
After Junior College, I landed a job at Playboy Magazine in New York.
After that, I tried high fashion modeling with American Models on Miami Beach.
Then came the apprenticeship years, when I learned how to write, produce and act.
My first TV series was Scene From Here, a weekly show biz show on Canada's CBC.
We won an award and right after that, the series was axed. [Gee… thanks]

So I narrated National Film Board documentaries and hosted Morning Drive Radio.
Then came the last role I'd have picked… as Mom on You Can't Do That On Television.
The little show that changed the world was produced in Ottawa, Canada. Did you know?

There were cartoons, too… The Care Bears, The Adventures of Teddy Ruxpin, For Better or For Worse.
I wrote cabaret shows… Dorothy Parker, Gloves Off! and I Still Miss My Man But My Aim Is Getting Better.
I went on tour… starring in Dorothy Parker and Love Letters [Gurney] and Shirley Valentine [Russell].
I won awards with funny ensemble shows… The Critics' Choice and The Damsel Dragon.
Between books for other folks, I wrote books for me: Vicarious, FAME, Patches, Unsuitable… now on Amazon.
We even went to ComicCon, where I got photo-bombed by Batman! [look to my right]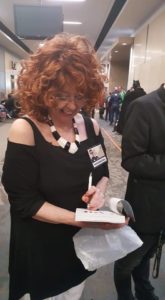 FAME is… what you want it to be.
Pushing the envelope… beating the odds… finding out what we're made of…
This is what it's all about.
It's the same for all of us, really.
I'm only a CLICK away!